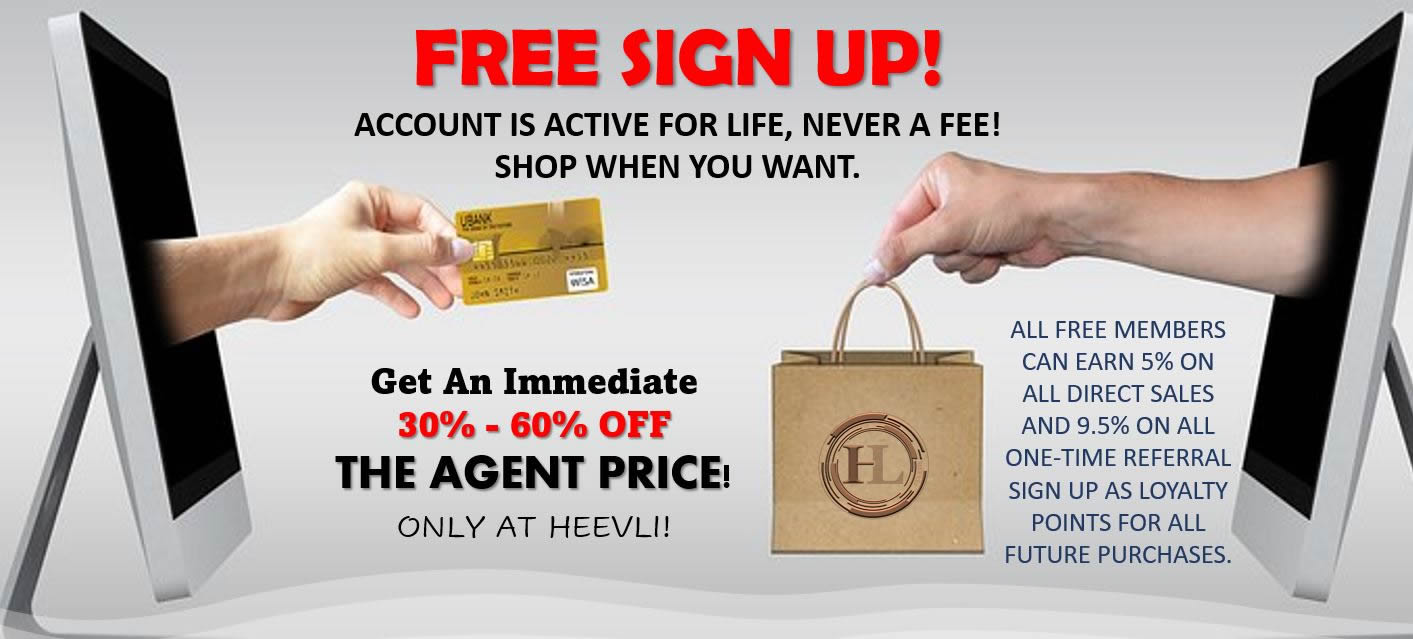 EXPERIENCE OUR HIGH-QUALITY PRODUCTS FROM THE PROFESSIONALS TO THE COMFORT OF YOUR OWN HOME AT PRICES THAT YOU CAN AFFORD.
Register with Heevli is FREE!!!.  We do not require any monthly autoship or monthly fees, not even 1 product purchase annually, but as a need-to basis.  You are under no obligations whatsoever.  We understand the trend and its competitions, so we have created various flexible ways for you to participate based on your financial needs even if you have zero dollar.  We have combined an excellent Membership Loyalty Program, so you can earn your products for FREE and more.  You will be able to have your own store site with everyone purchasing at the same price that will not affect you regardless of what they sold it for.  There is no competitions for you. 
IT PAYS TO BECOME A MEMBER WITH US!  WHERE ELSE CAN YOU FIND HIGH QUALITY, POTENT ACTIVE INGREDIENTS AND PRODUCTS THAT WON`T COMPROMISE WITH YOUR HEALTH AS MUCH AS POSSIBLE? IF YOU CARE ABOUT YOUR LOOKS AND YOUR HEALTH IN THE LONG RUN, WE CAN ASSURE YOU THAT THE BEST DEAL ON THE MARKET.
DEEP DISCOUNTS FROM THE PARNTER PRICING ON THE WEBSITE:  1ST TIME PURCHASE = 70% OFF THE ENTIRE ORDER WHILE ALL PURCHASES AFTERWARD:  PURCHASE 1-4 PRODUCTS = 30% OFF, 5-24 = 50% OFF AND IF MORE THAN 25 PRODUCTS = 60% OFF (CURRENT 70% DO TO PRE-LAUNCH).  
IMPORTANT NOTE:  PURCHASES IS UNLIMITED PER MONTH, CAN BE MIXED PRODUCTS AND SAVING IS DIRECTLY FROM THE MEMBER PRICE AS SHOWN ON THE WEBSITE WITH A MAXIMUM OF 10 PRODUCTS EACH.  PV POINTS WILL AUTOMATICALLY BE ADJUSTED ACCORDING TO THE DISCOUNT PERCENTAGES AS WELL.  PLEASE UNDERSTAND THAT THESE PRICES ARE INCREDIBLY LOW, SO ALL SALES ARE FINAL.  BY MAKING THESE BULK PURCHASES MEANS THAT YOU AGREED THAT THERE WILL BE NO RETURN OR EXCHANGE ONCE TRANSACTIONS HAVE GONE THROUGH.
HOW TO BECOME A FREE ELITE MEMBER AND ENJOY GREAT SAVINGS AND A HIGH LOYALTY POINT REFERRAL PROGRAM:    
Join FREE as an Elite Member, and whenever you want to upgrade, you can enter your SSN in the back office at any time.  
 
As a Free-Member, no SSN required.  Just only your DOB, making sure it`s a legit person.
 
You'll start enjoying our great savings immediately.
 
You never have to purchase a product to stay active, monthly or yearly.
 
Whenever you refer someone, you'll enjoy a 7.5% - 12.5% for referring any Business Coach as a Fast-Start Bonuses commission but as Loyalty Points (as Rebate for future purchases).
 
You will also be entitled to receive a 5% on all direct purchases monthly as Loyalty Points (as Rebate for future purchases).
 
You can upgrade at any time by changing the default in your back office, and our system will then automatically track your current and all future purchases as cumulative totals until you reach the desired Business Coach monthly income levels.
 
All Loyalty points earned will remain as rebates even when you upgrade to a Business Coach .
 
You can use your loyalty points to purchase product to ugrade to a Business Partner when you are ready.
 
INTERNATIONAL COUNTRIES:  We have an excellent Vendor Opportunity for you.  Please get in touch with one of our Business Coach for more details.
IF YOU ARE NOT REFERRED BY SOMEONE:  Please go to the HOME page and scroll to the middle section.  You can search from Business Coach near you.  We hope you will join us or upgrade soon to join our Business Coach opportunity and pass on that legacy you will create to those you love for generations to come!
IMPORTANT NOTE:  All of our products are suitable for ALL SKIN TYPE, including SENSITVE SKIN.  We know it`s unlikely for our customers to experience irritations or side effects, but in rare situations, if one of our product does not suit you well, please discontinue use right away. We advise you to please read the product description, ingredients and benefits carefully before making a purchase. We take what you put on your skin or into your body seriously so will only bring you the best and purest ingredients with the highest quality at affordable prices. Therefore, we do not retract commissions and do charge a 10% restocking fee on all resalable returns, enrollment or monthly purchases (please see our return policy under Terms & Conditions).